Andrew Haag is a graphic designer who creates logos, digital illustrations and other visuals for clients across all industries.
True to his mixed media style, Andrew Haag's professional projects specialize in emphasizing ideas in a hyper realistic collage format. Even in his fully digital works, Haag adds a collage atmosphere to his projects by using texture packs, overlays and assets in the editing process. His clients often appreciate and even seek out his collage style blend. As a graphic designer, Haag's style is accentuated by incorporating scanned images of real world objects into his digital designs. In his experience, digital art 'feels' different when we can see something tangible in the piece.
Graphic Design Software Skills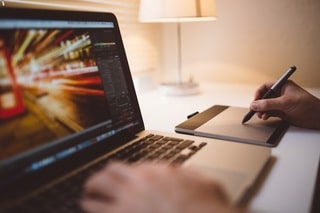 Andrew Haag is dynamically trained in visual and graphic design. Although largely self-taught through experience, Haag enjoys keeping up with the latest graphic design software by taking online courses. He is a major fan of graphic design courses taught on Udemy, and Canva Design School. Haag also regularly reads the design magazine, Creative Pro.
Andrew Haag Photography & Design projects often use the following graphic design and digital photography editing software:
Photoshop
PaintShop Pro
Fireworks
As a visual designer, Andrew Haag takes on the role of a creative constructor.  Drawing from creative briefs from his meetings with the client, Haag creates digital designs that work as the framework for larger projects.  His previous clients have utilized his work in independent video games, short films and commercials in the past.  Haag hopes to learn a bit more about the engineering side of design so that he can animate his visual designs on a larger scale.